February 5th, 2013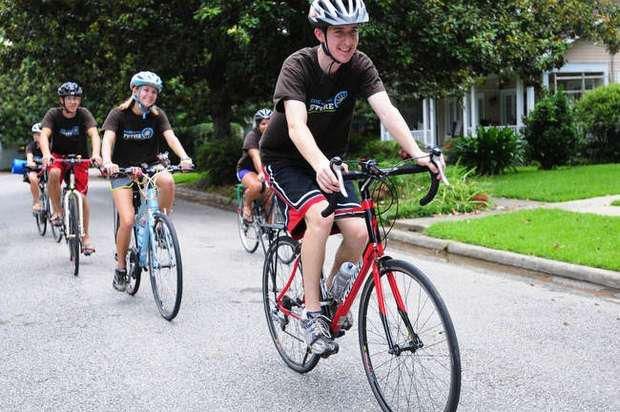 By Climate Counts Intern Ben Trolio
Two wheels, moist gallons of sweat, thousands of calories, open road, and limitless energy to fight climate change—all things required by biking.    Before my internship at Climate Counts, I spent consecutive summers biking to build the movement away from fossil fuels. Pedaling for the planet connected to my values while allowing me to meet leaders solving our crisis in New England and the Gulf Coast.  These nomadic summers instilled in me the values I embody in my work with Climate Counts.
After traveling through the Gulf Coast and the state of New Hampshire, I reached another intersection of climate biking in my work with Climate Counts.  The latest development related to this two wheeled hobby is the Climate Ride.    The nonprofit puts on two rides in the East and West Coast to grant resources to organizations fighting climate change.  Climate Counts is privileged to fall into the category of beneficiary organizations for this event.
While I won't be straining my quads from New York City to D.C. this coming fall, I want to chip in my two cents on why biking for the climate is a worthy use of time.  The Climate Ride funnels money to organizations including Climate Counts that fight for a low carbon future. The journey through California or New York to DC reaped $300,000 for climate organizations last year.  Without the support of this effort, Climate Counts would not be able to produce scorecards or leverage the power of the consumer. The East Coast ride ends at Capitol Hill giving riders the opportunity to meet with their elected officials.  The riders arrive at a centerpiece to advocacy work that attracts millions of dollars from the fossil fuel industry.  The fundraising potential of this ride is a counterbalance to the influence of vested interests in DC. 
Financing the movement away from fossil fuels can start from fundraising on two wheels.  The money created by the Climate Ride effort builds people power by giving nonprofits the resources to win the climate fight.  Consider supporting our efforts here at Climate Counts by checking out the ride http://www.climateride.org/.