February 22nd, 2010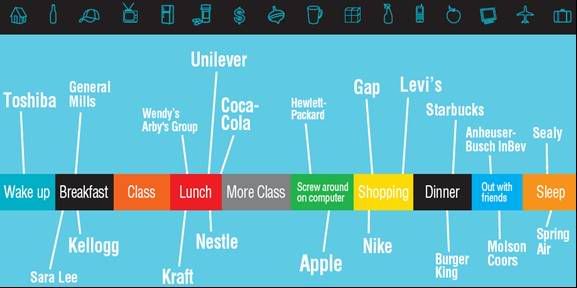 It is often said that the college years are the best years of one's life. In the ideal setting, the freedom to learn, grow friendships, explore one's passions and embrace youth all collide in a four-year span to create a sort of responsibility-free utopia. Amidst this collision, a college student may feel detached from the real world, but she is still very clearly a participant in the consumer economy.
| | |
| --- | --- |
| College students spend over $740 billion on furniture, electronics, and apparel every year. Add that to what they spend on airline trips home, food, and beer and one thing should be clear: if students were to tell big companies they care about climate change, those companies would listen. | - National Research Federation & BIGresearch, CIA Aug-07 |
The big picture – youth is fleeting, but consumption isn't.
If you think about it, campuses are communities, marketplaces, learning centers, idea generators, and ultimately, earth shakers. When corporations sell to college campuses, they are not only selling to large academic institutions, they're directly tapping into future generations of consumers. But too few students realize that they have almost exactly the same opportunity in reverse. They're not simply one-way receptacles for corporate messages. They can and should learn to talk back to those companies.
It does not take a petition thousands of signatures long or a day when the company switchboard lights up with complaints to make companies listen. Many business leaders will acknowledge it only takes a few dozen messages to bring a consumer or investor concern to a company's attention. Just think of the impact a fully engaged student body could have. Everyone consumes goods and services, everyone can have a say in how the companies that produce those goods and services operate. But when launched from college campuses, those voices can really resonate.
The choice is yours.
Climate Counts Campus Champions have the power to jumpstart a climate-awareness consumer movement. They can motivate their peers, colleagues and administrators to take action. Climate Counts can serve as a source and a roadmap. With our information and support (nearly 150 companies scored representing over 3,000 brands), Champions can activate climate-conscious consumerism on their campuses and have a direct impact on way companies do business. The attention of college students on public policy related to climate change is critical, but perhaps nothing is more important in changing the trajectory of climate change than changing business as usual.
Mark Harrison coordinates campaigns at Climate Counts. E-mail him about the Climate Counts Campus Champions program at: mharrison@climatecounts.org